Indiano : sense of visual texture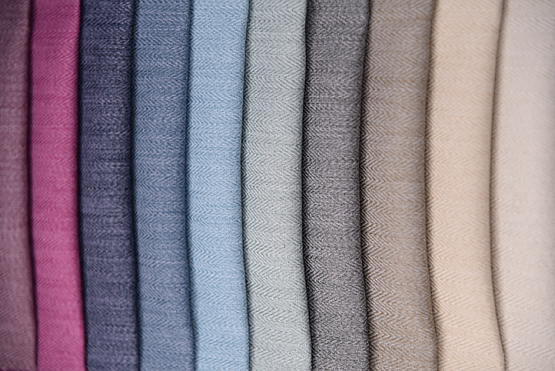 The Indiano creates a visual interesting look by a subtle herringbone pattern. Woven of 100% polyester fireproof yarn, this DIMOUT project fabric will retain its attractive design for a long time. The Indiano-collection is available in 34 bi-tone colors.
Subtle herringbone is a beautiful pattern to incorporate into a space that needs a little extra punch. The Indiano-collection has that subtle design due to the two polyester materials, woven in non-equilateral twill weave. The result of this weaving technique is a rich bi-tone herringbone effect. You'll use this kind of fabric in spaces that needs a subtle sense of visual "texture", in both public and private places.
Contact us to receive your sample
In terms of technical properties this collection has a lot to offer.
Product Type Dimout
Design Type herringbone bi-tone twill weave
Composition 100 % polyester FR
Width 147 cm
Net weight (g/m²) 335
Number of variants in colors 34
Flame Retardancy M1 (test report/certificate is available)
Sound absorption Class A (test report/certificate is available)
Washable 60° with Wash resistance (ISO 105 C06) 3 - 4
Martindale (ISO 12947-2) 50.000
Dimensional Stability in % 1 - 2
Light resistance (ISO 105 B02) 4 – 5
Warranty on the fabric 10 year







This new Indiano collection has an exceptionally good price/quality ratio + "visal texture"-design + excellent technical properties = versatile fabric !