Bari : a Heimtex success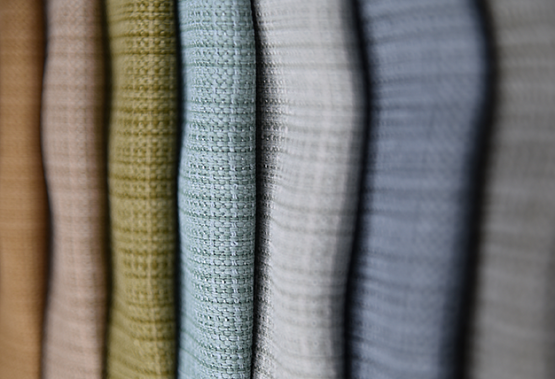 The try out of the BARI was a success at Heimtex, the biggest international trade fair for contract textiles. This DIMOUT fabric has a dynamic diamond pattern with a shiny weft thread. A perfect design alternative to the omnipresent linen look. The Bari-collection is available in 14 natural-touch colors.
The structure of the Bari-fabric is plain weaving of which one warp thread is shiny every 7 mm. This gives the whole fabric a subtle rustic texture. The main ribs run horizontally and the vertical ribs accentuate the bi-tone effect. This Bari-collection is excellent for creating or supporting a homey atmosphere, such as in charm hotels, holiday homes, …
Contact us to receive your sample
In terms of technical properties this collection has a lot to offer.
Product Type Dimout
Design Type dynamic diamond pattern
Composition 100 % polyester FR
Width 142 cm
Net weight (g/m²) 308
Number of variants in colors 14
Flame Retardancy M1 (test report/certificate is available)
Sound absorption Class A (test report/certificate is available)
Washable 30° with Wash resistance (ISO 105 C06) 3 - 4
Martindale (ISO 12947-2) 30.000
Dimensional Stability in % 1 - 2
Light resistance (ISO 105 B02) 4 – 5





This new Bari-collection has an exceptionally good price/quality ratio + top-design + excellent technical properties = versatile fabric !