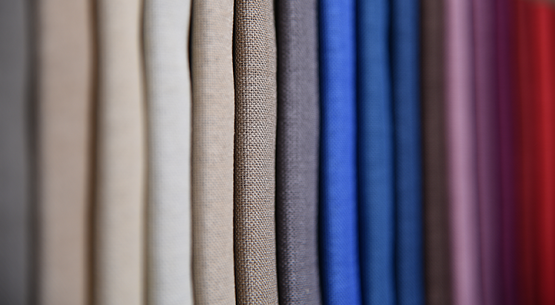 Hades : state of the art DIMOUT
With the new Hades-collection we introduce the perfect DIMOUT fabric. The Hades is a very durable semi-matt twill weave fabric which blocks to 98% of the light. This 100% polyester flame retardant fabric is M1 certified. Available in 28 sophisticated colours to give the whole collection a "state of art" look.
Hades is woven in Twill binding in which the warp and weft wires crosses each other one up and two down. By combining black warp threads with a dense Twill binding the Hades let very little light through. Less than 3% in fact. With the use of thin, very smooth polyester yarns, a subtle tissue is obtained that is similar to Gabardine-fabric. The Hades-collection "drapes" nicely, it is also strong/durable, wrinkle-resistant and could even be water repellent treated. In short, a top project fabric for use in both public and private places.
Contact us to receive your sample
Also in terms of technical properties this Hades-collection has a lot to offer.
Product Type Dimout
Design Type twill weave semi-matt
Composition 100 % polyester FR
Width 300 cm
Net weight (g/m²) 298
Number of variants in colors 28
Flame Retardancy M1 (test report/certificate is available)
Sound absorption Class A (test report/certificate is available)
Washable 60° with Wash resistance (ISO 105 C06) 3 - 4
Martindale (ISO 12947-2) 80.000
Dimensional Stability in % 1 - 2
Light resistance (ISO 105 B02) 4 – 5
Warranty on the fabric 10 year







This new Hades collection has an exceptionally good price/quality ratio + "Gabardine"-design + excellent technical properties = state of the art and versatile fabric !